We've built the network you've always dreamed of…now become part of it!
Velocity's private label hosted reseller program enables you to become an Internet Telephone Service Provider and quickly launch and efficiently manage a wide range of solutions for modern telecom services. We have built a multi-million dollar, state of the art network, powered by Porta One. With our voip reseller program, you can offer you clients residential and business VoIP, IP telephone solutions, IP PBX and centrex solutions, calling card and prepaid services, IP multi-media services and other of the most current selections to increase your revenues.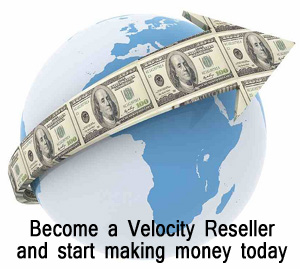 We've spent millions of dollars building our network with the technology that has revolutionized the VoIP industry. Velocity is now offering our technology, products and service offerings to you for a fraction of our investment. All points of presence in the country are sitting in category five secure collocations.
Your business will reach new heights when you are part of the Velocity Voip team. We make it easy with intuitive online applications, a world-class network and data center, aggressive discounts and comprehensive support. Join the largest database of DIDs in North America, a leader in the hosted VoIP industry and get started now with no large up front investment. If you have been interested in becoming a VoIP provider, Velocity VoIP presents a feature-rich Reseller Service Program for businesses who would like to become mainstream VoIP Provider without making huge investments in backbone operations, infrastructure, development and research.
When it comes to speed and efficiency, it's all about the backbone.
Velocity has built a state of the art network utilizing vmware the latest updates of technology. We offer you the ability to be a class four and five switch with advanced calling features, making it easy for you to outfit your business and offer your customers the features they'll love, features to gain clients, features that keep you competitive in this fast growing industry.
Velocity VoIP enables you to sell SIP Termination, SIP Trunking, International DID numbers and other VoIP services. We provide you with cutting edge tools and features so you can sell the private label voip service under your own brand name. Velocity has one of the most complete and highest quality VoIP platforms available. Through our private label voip solution, we offer system integrators and other resellers high quality IP communications services along with useful tools to manage a variety of service offerings with ease.
Any business entity, whether Internet Service Providers, Call Shop owners or Computer Networking Specialists, with existing client-relationships in the captive audience for VoIP services can join hands with Velocity VoIP and start reaping the benefits of selling VoIP-enabled services.